What's Hot Right Now: Quilting-inspired Knit and Crochet
February 23, 2021
As the most recent issue of Pom Pom Quarterly highlights, quilting-inspired knit and crochet patterns are having a moment in the spotlight. Quilting is a cozy, comforting home craft. It allows makers to put together scraps or leftovers, upcycled items, or small bits (think mini-skeins) to create a larger item to be treasured. If you love the quilted look, but would rather knit or crochet than sew, we've pulled together some of our favourite quilt-inspired patterns to tempt you!
Blankets
One of the easiest ways to get that quilted look you love is to let it inspire your next blanket project. Get graphic and colourful with the The Hue Shift Afghan, available in knit or crochet! Prefer garter stitch? Try Learn to Knit a Log Cabin Blanket by Staci Perry. Give short rows and colour-changing yarns a whirl with Lizard Ridge by Laura Aylor (FREE from Knitty). Or put your scraps to work in the puffy hexagons of The Beekeeper's Quilt by Tiny Owl Knits, the wildly colourful Fiesta CAL by Tinna Thórudóttir Thorvaldsdóttir, or the Battenberg Blanket by Sandra Paul.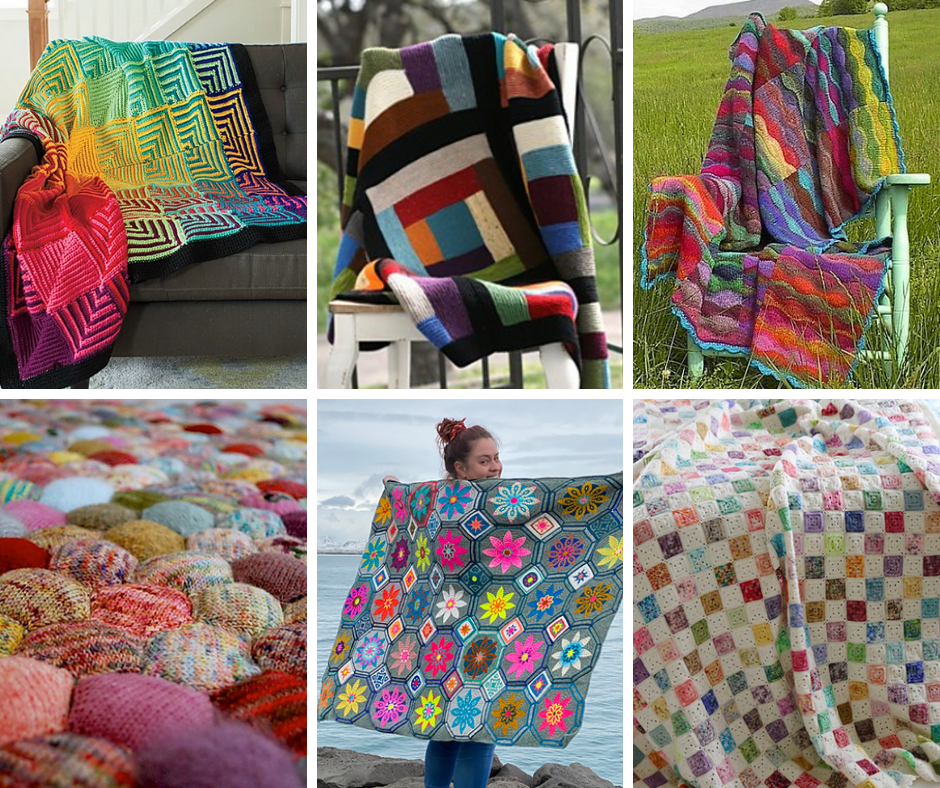 Flying Geese
Flying Geese are a popular motif in quilting. They are rectangular patchwork quilting components that are twice as long as they are tall, each with a peaked triangle at its center.  We found plenty of fun examples in knitting and crochet for you! If you want a blanket, try either Fly Away by Tin Can Knits or the Flying Geese Blanket by Ann Hahn Buecher. Add the motif to socks with Flying Geese by Lacey Volk (FREE from Knitty), a toque with Flying Geese Hat by Streelymade Designs, or even a crocheted sweater coat with the Flying Geese Jacket by Juliette Bezold.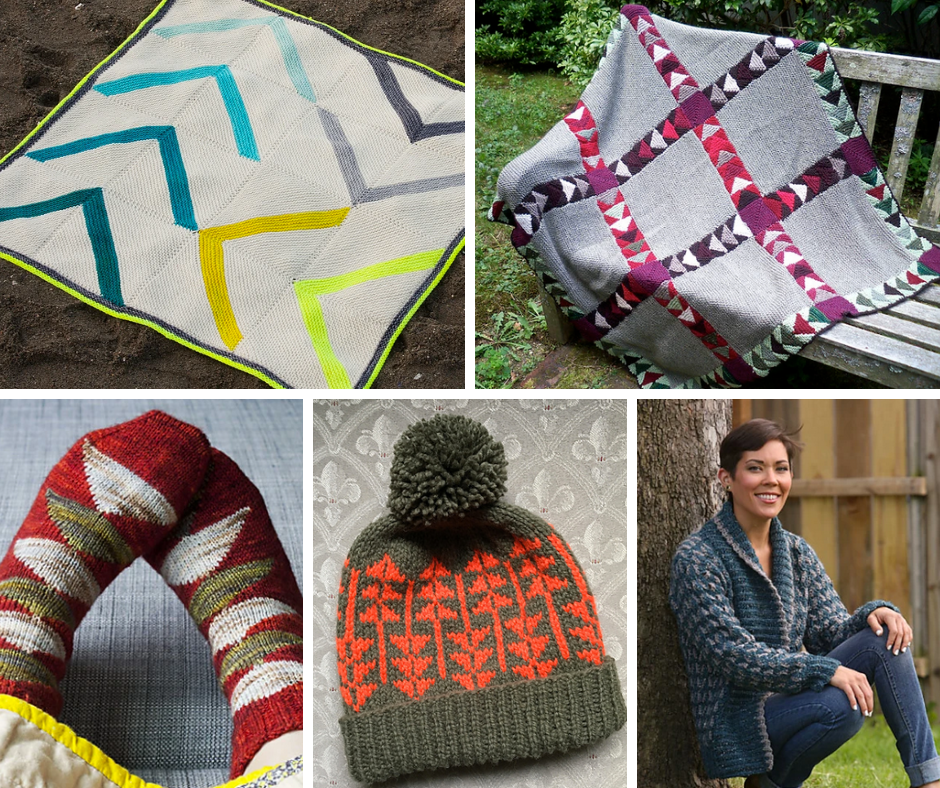 Sweaters, Accessories and More
Quilt-inspired garments are also hot these days. If you'd love a puffed coat, try the Quilted Sweater Coat by Alexandra Tavel. Enjoy crocheting granny squares? Then you'll love Battenberg by Gina Röckenwagner. Do you enjoy lots of piecework? Check out Lucky Pieces by Inyoung Kim. Or add a bit of quilt style to your accessories with the Knotted Quilt Beanie by Angela Leigh Handmade or the Echo Scarf by Meg Roke. And don't forget other home accessories like the I-Cushion by Kaffee Fassett!
If you're looking for additional inspiration, check out our Pinterest board, or other quilt-inspired publications like Quilty Knits or Modern Daily Field Guide #16 Painterly.
Like this post? Pin it!