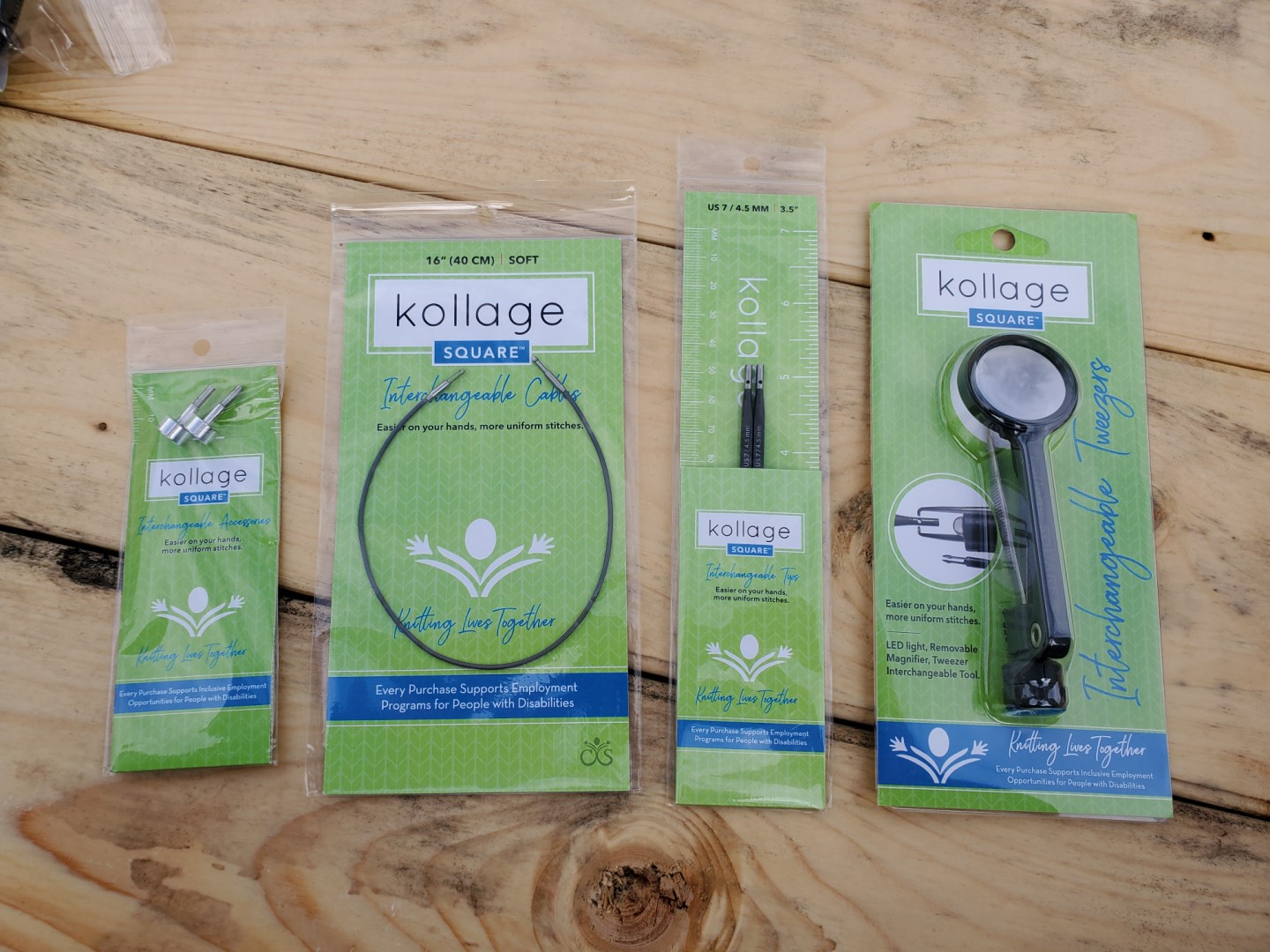 Introducing kollage SQUARE™ Interchangeable Needles
October 30, 2020
The wait is over….we are thrilled to announce that kollage SQUARE™ Interchangeable Needles are hot off the production line, visit your local yarn store to purchase them today! We've made a lot of improvements, and introduced an entirely new tool to facilitate use. 
Let's talk about the components to our interchangeable needles!
Interchangeable Tips
Our signature SQUARE™ needle tips are made of anodized ultra lightweight aluminum and each set of tips is laser-etched with sizing, meaning the information will never rub off and you'll never need a needle gauge! Interchangeable tips are available in sizes US 2 – 11 (2.75 mm – 8mm). The Interchangeable Joiner is made with a strong stainless steel material. Don't forget, all our SQUARE™ needles have a lifetime warranty.  Kollage stands behind it's top quality manufacturing and customer service to ensure you are loving your needles for life!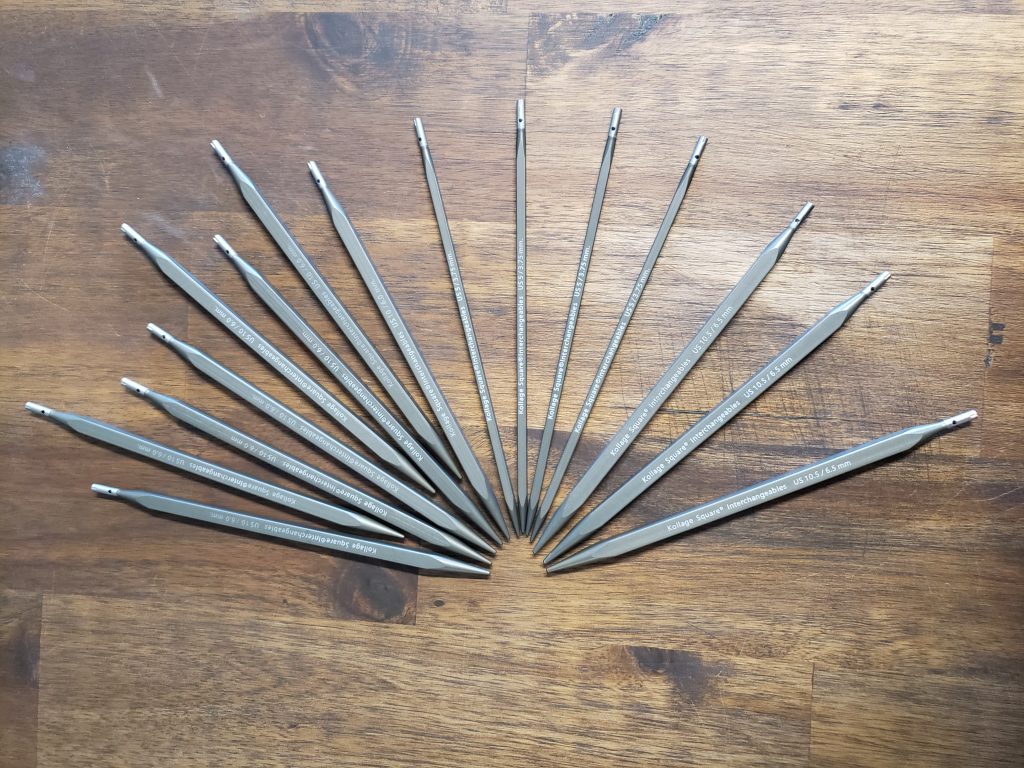 Interchangeable Cables
All of our SQUARE™ needle tips can be used with our interchangeable cables, which are available in either firm or soft, in our signature grey or yellow colors, and in the following lengths: 16″ (40cm), 24″ (61cm), 32″ (81cm), 40″ (101cm), 47″ (121cm), 60″ (151 cm). Do you have a special project that requires a custom cable length?  Talk to your local kollage retailer and request that perfect length.

If you cannot find a retailer go to our handy retail map to find a store in your area or contact us!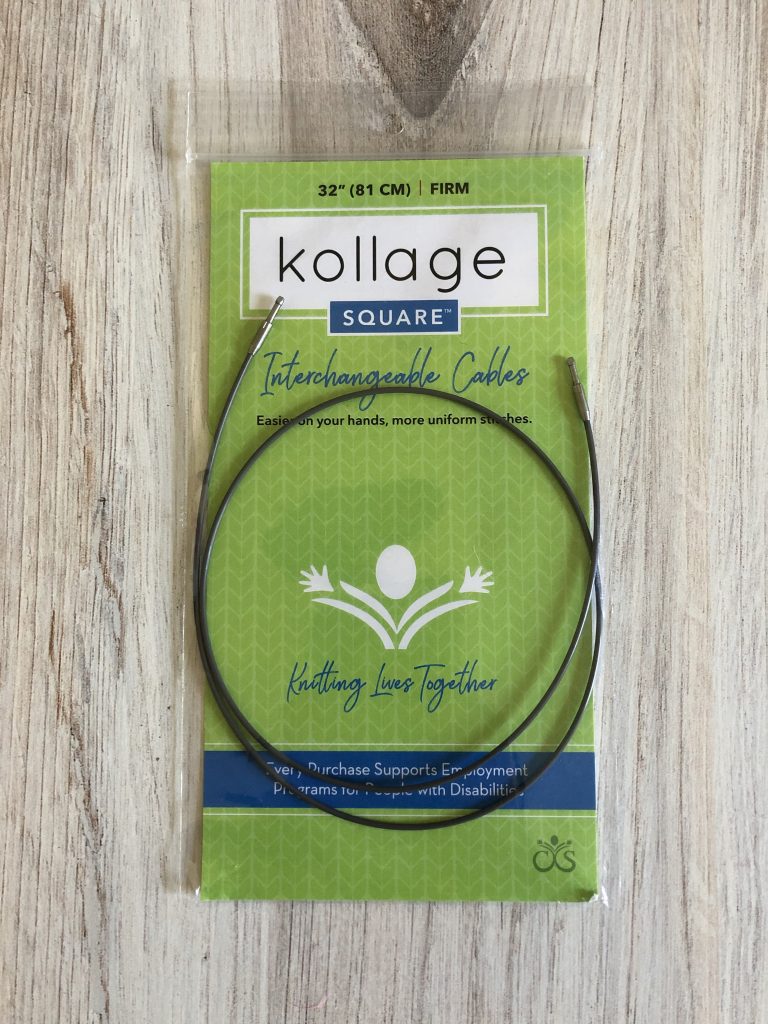 Our New Interchangeable Tool
In addition to the debut of the needle tips and cables, we've developed a new tool to assist in changing tips! We know that the previous tool was plastic and prone to breakage, so we went back to the drawing board and started with a brand new design. The new and improved steel tool not only disconnects needle tips from cables, it's also an LED light and has a removable magnifier to make changing needle tips easier. We're so excited about this new tool and we can't wait for you to use it! (If you have older kollage SQUARE™ Interchangeable Needles, our newly designed tool is compatible.  Visit your local yarn store to try and/or purchase the new tool.)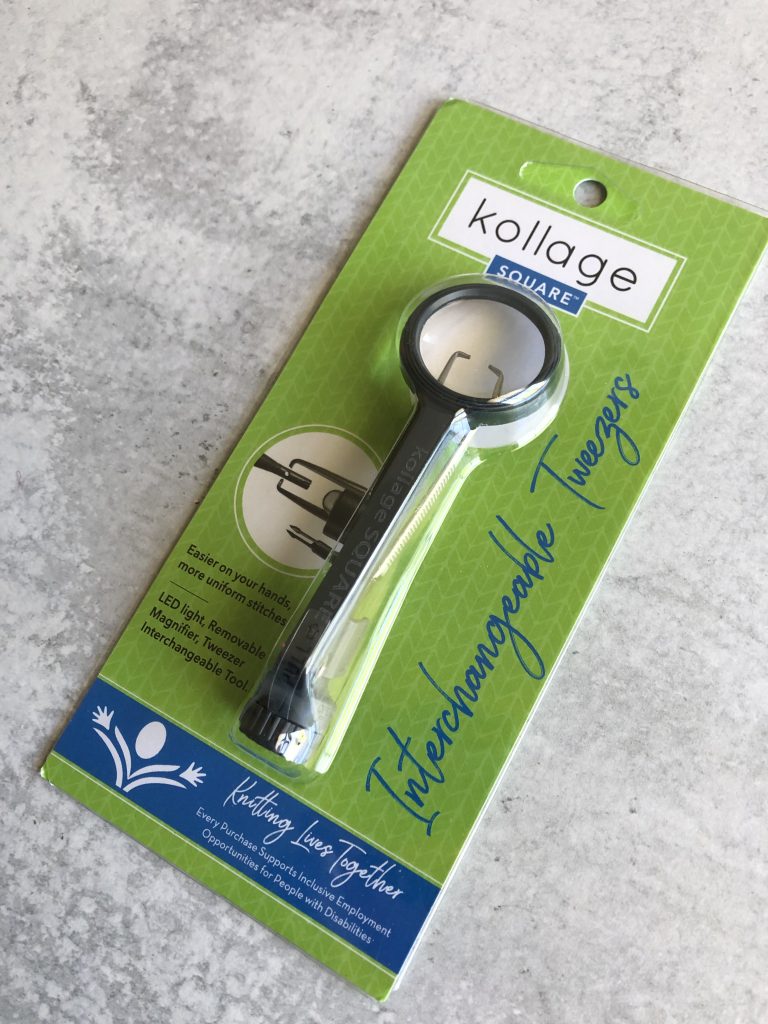 Putting Them Together
The needle tips and cables click together securely, and feature our stainless steel swivel action joint for easy manipulation while knitting. Our patented quick-disconnect system allows you to change to a different size needle with ease in the blink of an eye. We've spent quite a bit of time re-tuning our machines and replacing vital parts to ensure our tolerances (how much variation appears in each product) are tight, and each needle set connects and disconnects as it should.
Check out this quick video for best practices when connecting and disconnecting your needle tips to the cables:
Interchangeable Stoppers
We've also developed kollage SQUARE™ Interchangeable Cable Stoppers. Each pack contains 2 stoppers for your convenience.  These stoppers attach to the ends of the interchangeable cables when you're changing needles tips or putting stitches aside to pick up later!
Did you know? We get lots of messages and comments about how people are knitting again because of our patented SQUARE™ needle design. If you would like to see these amazing comments check out our Facebook page!
If our needles are not available at your local yarn shop, have them sign-up to become a kollage retailer.