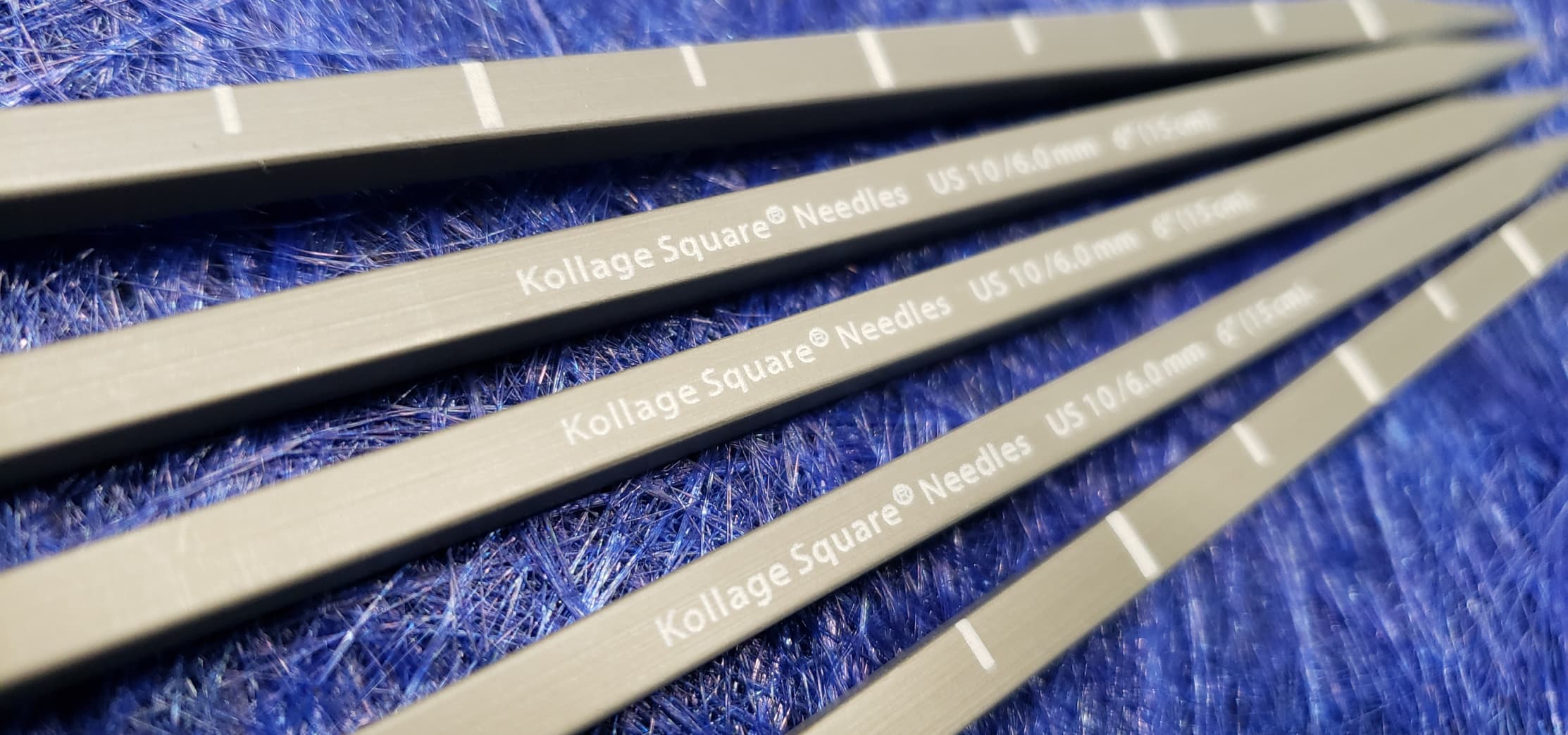 FAQ – Answers to our most-asked questions!
July 6, 2020
As the new owners of kollage SQUARE™ Needles, we've been answering lots of questions! Today we decided to collect all those questions and answers in one place so you can find them easily. If you have additional questions, please feel free to leave them in the comments on this post and we'll answer them as well!
Why Square needles?
As a crafter, your hands are your most valuable tool. Even if you're not currently experiencing hand or wrist pain, it's worth treating them right by selecting needles and hooks that support all the hard work they'll be doing for years to come!
Our Square™ needles and hooks are perfect for knitters who have arthritis, carpal tunnel, and stiffness or joint pain in their wrists and fingers. Square™ needles and crochet hooks decrease contact stress by giving your fingers a flat surface to rest on while knitting. This is different from traditionally-shaped round needles and hooks, which force your fingers to rest on smaller, convex-shaped surface areas. Reducing contact stress relieves strain and tension in your fingers, which in turn decreases hand and wrist discomfort while knitting.
Our ergonomic needles are really having an impact on our customers lives:
"I began knitting in 2008, and I'm not kidding when I say I've tried almost every type of knitting needle on the market. When I got my first pair of kollage SQUARE™ Circular needles, I was skeptical – they couldn't be THAT different, could they? Imagine my surprise when I realized that my chronic wrist pain had alleviated, and I was able to knit for hours without strain! My physiotherapist could even tell the difference, and now I have orders to never use any other type of needles again. I'm a fan for life!"

– Rebecca Diamond (tatmom on Ravelry)
How do you measure the size of a Square™ needle?
You will never need a gauge to measure our square needles because the sizes are laser etched, meaning they will never rub off!
However, if your glasses aren't handy and you need to determine the size of your needle or hook, square needles can be sized the same way you would size your round needles! That's because your square needle fits neatly within a circle (geometrically speaking). For a round needle you're measuring the diameter of the needle, but for a square needle you're measuring the size diagonally from corner to corner. Try it!
What's the difference between your soft and firm cables?
When you're knitting, do you prefer a soft or a firm cable? The good news is we have both! Our soft cable is flexible with no memory, a favourite for those who love magic looping. Our firm cable is firm enough to carry your stitches on heavier projects but also has a unique swivel join, allowing your needles to move easily and flexibly in your hands.
All of our circular needles are available with either the soft or firm cable in sizes US0-11 and a variety of cable lengths so you can select the perfect needle for every project.
What are your needles and hooks made of?
kollage SQUARE™ Needle tips are crafted with anodized aluminum, which not only gives them a beautiful titanium finish, but guarantees that your needles will never lose their smooth surface or develop tarnish. Our DPNs are available in 5", 6" and 7" lengths and in sizes US0-US10 (2.0-6.0mm) and our straight needles are available in 10 inch lengths in sizes US2-US11 (2.75-8.0mm).
For our circular needles, the ends are attached to stainless steel joiners which connect the cables (either soft or firm – see above!) Our circular needles are available in needle sizes US0-US11 (2.0-8.0mm) and in either our soft or firm cables in a variety of lengths. Each of our Square Crochet Hooks have a beautifully hand-crafted, American Walnut handle and come in both pointed and round tips. Our hooks are available in US sizes A – I (2.0 – 5.5mm).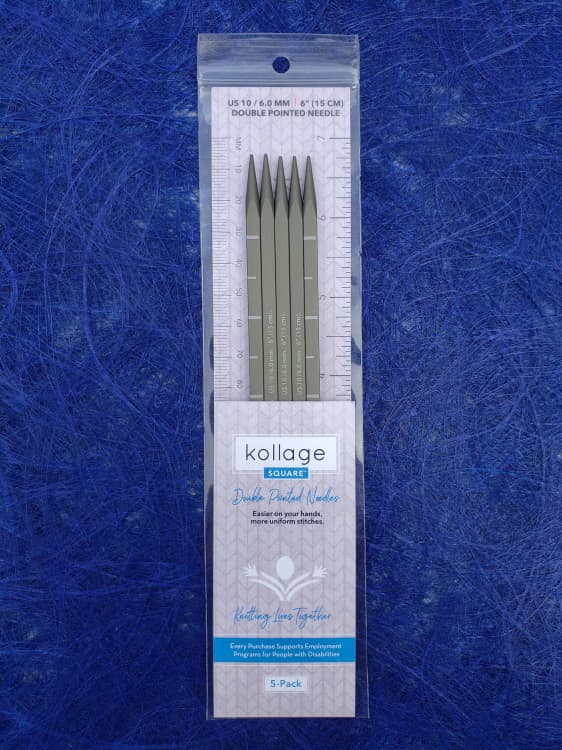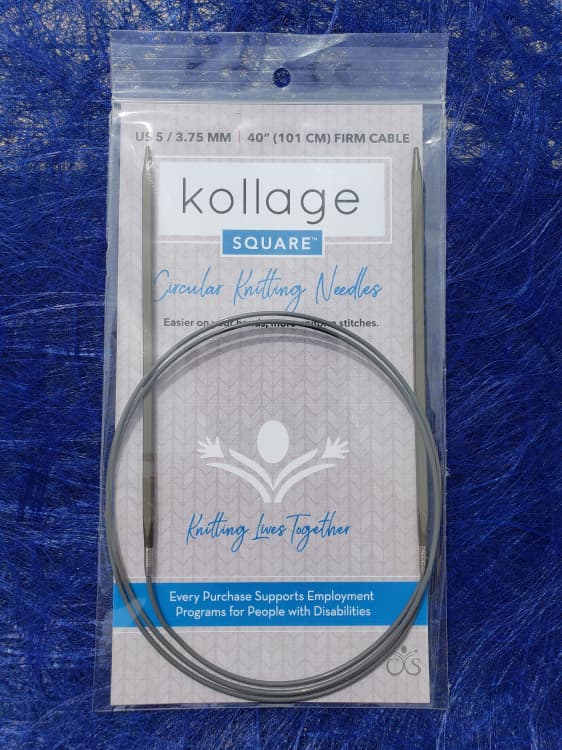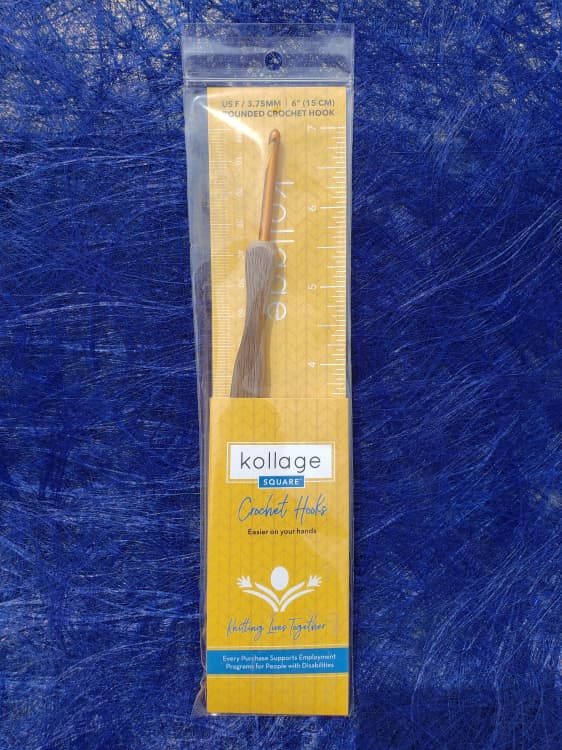 Where can I purchase your products?
We don't sell directly to consumers, preferring instead to support a robust network of local yarn stores and distributors. You can check our website at www.kollagesquare.com to find a retailer near you or Google kollage SQUARE™ Needles to find an online retailer. If your local store doesn't carry our products, encourage them to contact us at [email protected]!
What makes us different from other needle manufacturers?
We are committed to producing high-quality products free from defects. One of the things that makes us different from our competitors is that we offer a lifetime guarantee for all manufacturing defects on our products. We want you to love your Kollage hooks and needles today, tomorrow and forever!
We also think our mission makes us different from other needle and hook manufacturers. Every needle purchased enables us to continue to provide inclusive training, real work experiences, and employment for people with disabilities.
With your help, we truly are "knitting lives together" by assisting barriered individuals to master the stitches they use daily to create employment and change their lives.