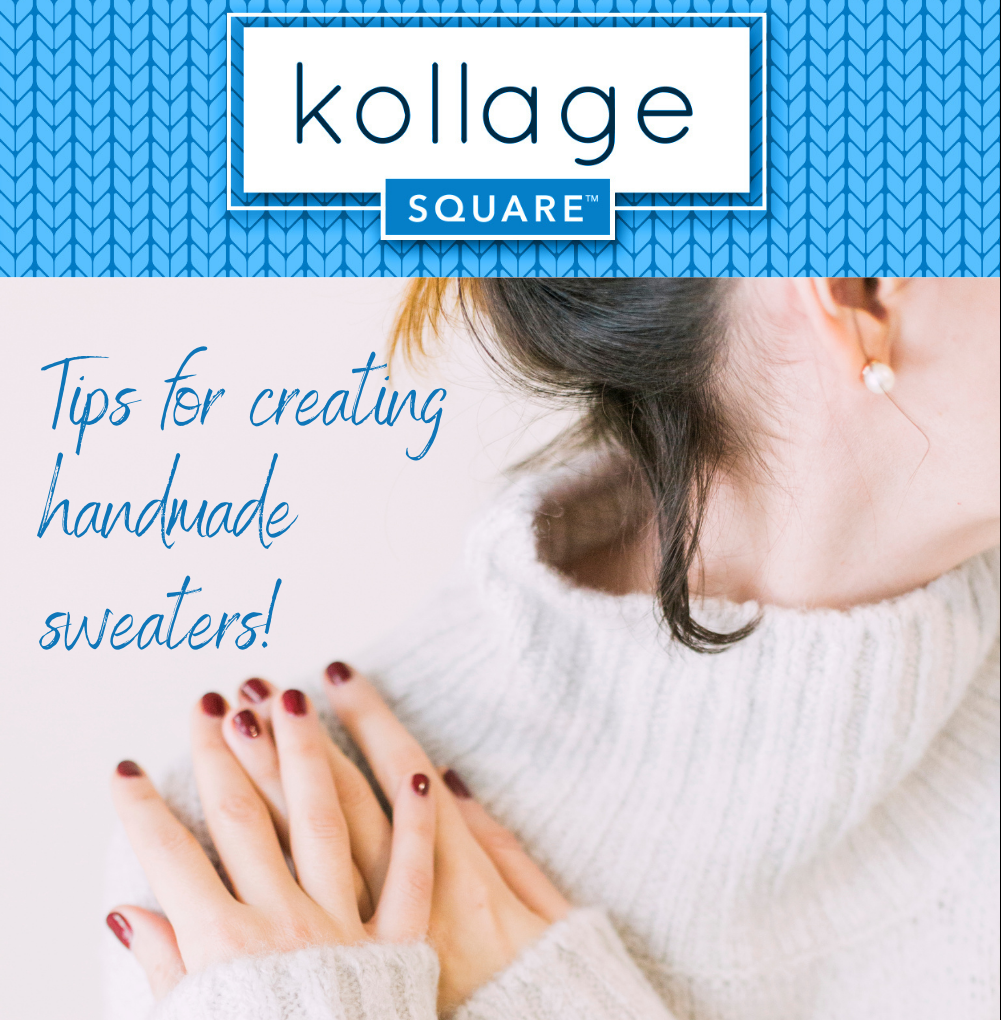 Sweater Weather: Tips for Creating Handmade Sweaters
October 19, 2020
The chilly weather has us thinking about all those cozy warm sweaters we love to wear during the winter months. If you've never made a sweater before, it can seem like a daunting task. We've put together our best tips and tricks for sweater knitting, along with a few of our favourite beginner patterns to get you started on the path to successful sweaters!
Choosing a Pattern
Whether you have yarn in your hands (or stash) or you need to purchase some, the first step in planning a sweater project is to choose a pattern. To start with, think about what you already have in your wardrobe. Do you prefer cardigans or pullovers? Do you live in a warm climate or a cooler one? In a warm climate, you might think about selecting short sleeve or lighter weight sweaters and tees, versus a cold climate where bulkier yarn is all the better to keep you warm!
Do you like form fitting garments, or do you prefer those with a bit more room? Do you like clean straight lines, delicate details, or more structured seams? The possibilities are endless, but give some thought to both what your favourite styles are to wear and what pieces your closet may be lacking. If you're able to use Ravelry, you can start browsing there and narrow down the possibilities by selecting the type of sweater you want, the weight of yarn you'd like to use, or several other parameters.
For your first knitted sweater, we find that top down, raglan sweaters are a great way to go. They are relatively seamless (usually just a few stitches to graft under the arms), and one of the benefits of top down is that you can put it on waste yarn and try it as you go! If you prefer to start smaller, a baby sweater is the perfect sweater experience in miniature; both the Flax and Harvest patterns highlighted below are also available in kid sizes.
If you have already mastered techniques like lace and cables, you can add a few of those in there to make it more fun. For adventurous knitters, we have highlighted a few pieced sweaters that require seaming. And crocheters, we haven't forgotten about you! Below you'll find links to two crocheted cardigans that look so cozy for fall!
The following include Ravelry links to the patterns: Flax and Harvest by Tin Can Knits, Aidez by Cirilla Rose, February Fitted Pullover by Amy Herzog, Everyday Cardigan by Sewrella and The Habitat Cardigan by Jess Coppom.
Choosing Needles or Hooks
Sweaters will often involve 2 or more sizes of needles or hooks. The smaller size is often used for edging details (for instance to create snug ribbing), whereas the larger size is used for the body fabric. You also may use multiple cable lengths, depending on the circumference of the sweater. You'll have several choices as to what type of needles you'd like to use to create your sweater. If you're knitting, you can choose from our interchangeable needle set, fixed circular needles (or a set), or straight needles.
Interchangeable needles are lovely to work with because you can use one (or more) cable throughout your project and just change the tips when needed. For instance, on a top down pullover you might use your shorter cable and smaller tips to cast on at the neck, and complete your ribbing. Then you can just swap out the tips for the larger set to continue working in the round. As your sweater gets larger you can switch to a larger cable throughout the yoke and the body, and then switch just the tips back to the smaller ones when you get to the hem to finish.
If you prefer our fixed circulars you can purchase the sizes you need, or purchase our kit which includes a range of sizes! You may want different cable lengths, but remember that you can always magic loop smaller circumferences with longer cables, but managing large numbers of stitches on shorter cables can be challenging.
When knitting a sweater that requires seaming, you may opt to knit it using either of the needles mentioned above or, if you prefer, we carry straight needles in all the sizes you'll need. In this case you'll be knitting smaller flat pieces and seaming them together in the end, so straight needles might be just the ticket!
And finally, if magic loop doesn't interest you, we carry DPNs in a variety of sizes and lengths so you can knit your sleeves in the round, much like socks!
Crocheters will be delighted to know that tall of our crochet hooks are available with either a rounded or pointed tip (some folks prefer one or the other depending on the yarn they're using). We also offer a crochet kit which includes several common sizes all in one handy carrying case!
Swatching
Before you start any sweater project it's important to swatch. We know, the dreaded S-word. But swatching gives you a chance to combine a specific yarn and needles or hooks to create a specific fabric. Because each crafter is different, and crafts and different tension, each crafter's swatch may be slightly different.
It is important to knit or crochet a swatch that is large enough to determine an accurate gauge, that is how many stitches and rows per inch you produce with that specific yarn/needle/hook combination. If you're getting too many stitches per inch your garment may turn out smaller than you anticipated, and too few stitches per inch will result in a garment that is too large. So take time to create a swatch, and wash and dry it to see how the yarn behaves. Then, using a ruler, measure your gauge. If it doesn't match what the pattern suggests, you may need to create another swatch on different needle or hook sizes, until you get what you're looking for.
Crafting Your Sweater
Once you've picked your pattern, purchased your yarn, gathered your needles and notions, and swatched, you're ready to get started crafting your new sweater! Here are a few tips and tricks that we use for success:
Make a paper copy of your pattern (either printed or copied; this is considered Fair Use as long as you don't share it with anyone else!) so that you can mark it up.
Once you have selected a size, take time to highlight or circle the numbers associated with that size. Trust us – at some point you might forget what size you're knitting and you'll wish you had taken the time to do so!
Grab highlighter tape or a magnetic board with a ruler to keep track of where you are in the pattern, or mark your rows on charts.
Stitch markers are nice to have and can be useful for marking repeats or certain stitches in pattern. Locking stitch markers can also help you keep track of your rows (i.e. how many rows you've knit or crocheted since you last placed your maker).
Row counters are quite handy tools to track your progress. There are row counting rings, and gadgets, or you can keep track of your repeats with pencil and paper (hence the paper pattern!).
If you're looking to ditch the paper pattern, there are several apps out there that can help you do so. KnitCompanion is one of our favourites for keeping track of all the things we've mentioned above and it's available for both IOS and Android.
Keep waste yarn or stitch holders handy in case you need to put certain sections of your knitting on hold.
If you get stuck at any point in crafting your sweater there are a myriad of ways to get help! Search the Ravelry forums for posts that relate to your pattern, learn specific techniques and stitches from YouTubers like VeryPink Knits, inquire at your local yarn store, peruse articles on Knitty or, as a last resort, send the designer a question via contact information provided in the pattern.
Finally, you'll need a tapestry needle. Even if your pattern has no seaming required, you'll need it to weave in those ends when you're done.
Blocking
The final step in producing a beautiful sweater is blocking! Blocking is the process of washing and drying your garment to help the stitches relax into place and the yarn to bloom. Blocking will even out most small tension issues and overall give your garment a more finished look.
Blocking can be accomplished in a few simple steps:
Fill a basin with cool water and add a bit of woolwash, shampoo or dish soap.
Gently submerge your garment into the basin, ensuring it is entirely covered by water. You may swish gently, but don't add too much agitation because you don't want to risk felting delicate fibers.
Let your garment soak for 10-20 minutes until thoroughly clean, then rinse as necessary (hint: many woolwashes don't require rinsing!).
Roll your garment in a clean dry towel and squeeze gently to remove excess moisture. Never wring your garment.
Lay your garment out on a flat surface, pressing into shape gently to dry. If you are concerned about fit or size, you can block the garment (or pieces) to the dimensions specified in the pattern.
We hope these tips help you navigate creating your first sweater successfully. If you've finished a project that you'd like to share with us, tell us all about it here, or share it with us via social media using the hashtags #kollagesquareneedles or #kollagesquarecrochethooks. We can't wait to see what you create!
Like this post?
Pin it.